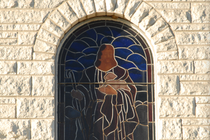 South Point Community Church, Crown Point, IN
"The grant has benefited our church in incredible ways. Of course, 2020 has been a tough year for all of us, including our church. It was an amazing reality that when our church gathered together for the first time in our auditorium again, we had new carpet and a new hardwood platform! What an incredible surge of excitement and hope.
Thank you so much!"
Life Church of the Nazarene, Warrensburg, MO
"We know have a 20X30 finished slab off our coffee booth which allows people to go outside with their drinks and snacks,
Also, the new siding has replaced our old dilapidated siding and seriously improved our frontage improvement!"
First Congregational Church, Thomaston, CT
"...The work was completed in September and during the annual Light Up the Town Christmas celebration, our church shone brightly along with the other buildings in town! We are indebted to the Oldham Little Church Foundation for your assistance in funding this badly needed repair. When the extent of the damage was initially discovered, our hearts sank at the thought of losing the steeple. However, through the perseverance of our Trustees, Finance Committee, the existence of our "Permanent Fund", as well as a recently established Steeple Fund, and the auspices of the OLCF, we were able to effect the repair to our beautiful building. Our church has stood in the center of Thomaston for nearly 200 years as a beacon of light to the faithful, and a call to those who need to come into its light. Praise Jesus for guiding us to you, and for your confidence in us! Thank you seems most inadequate to express our gratitude."
First Baptist Church, New Haven, IN
The membership of First Baptist Church New Haven desires for me to express their deepest appreciation to Oldham Little Church Foundation!
The grant approved for FBC New Haven by the Foundation helped our church get over the top in funding for a much needed remodeling project of our church sanctuary & adjacent fellowship hall - all done by the great volunteers @ FBC!
The on-line grant process is thorough, but well thought out and helped us to think through and better articulate our project to our congregation.
This is the second time FBC New Haven has gone through the grant process and had the privilege to be awarded a grant, and so we are very thankful for the ministry of Oldham Little Church Foundation!
Ebenzer Evangelical Congregational Church, Jim Thorpe, PA
We were so blessed to work with Oldham Little Church Foundation. The grant helped us to complete expensive repairs for our small church and the foundation staff encouraged us along the way. They were very helpful with our many questions and even gave us technical assistance on more than one occasion. We would highly recommend the foundation to any small church!
Monee Free Methodist Church, Monee, IL
Thank you SOO much for your continued support of small local churches! The doors look beautiful and we are excited to see how the Lord will use these doors to help people come to know and find the true door, Jesus.
Calvary's Harvest Baptist Church, Jonesboro, GA
The Grant has made a huge impact on our Church and n the people. They have been encouraged to pray more and are learning that the Lord knows what we have need of even before we ask, and that he is able to do exceeding above whatsoever we could think or ask. We are so thankful for the Grant and because of it, we are able to open the facility and use it in the way God has designed and intended to be used, to reach and teach His people and His Children.
Thank you again for your gracious investment in the ministry of the Lord through Calvary's Harvest Baptist Church.
Forever grateful, Dr. Craig L. Bennett
Phil. 1:21
Spirit Redeemed Missionary Baptist Church, Chicago, IL
The Spirit Redeemed Church and I are so grateful that you all chose to assist us with the repair of our roof. We have struggled over the years to do necessary repairs and cover the cost of ministry. We believe that our church is a beacon of light that shines in a dim community. Your assistance helped take a significant weight off and even though there are other repairs that need to be done we a grateful for the fact the sky will not be falling on our heads. Again I along with the entire Spirit Redeemed Church appreciate the favor that you have graced us with.
Macedonia Missionary Baptist Church, Livingston, TX
"I would like to say that we are very grateful for the gift that we received. It complimented our church in such an awesome way. The membership is very pleased for such a spirit of sharing. We will forever have an attitude of gratitude because of the generosity of Oldham Little Church Foundation. You all will continue to be in our prayers that more fruit may abound to you all's account. As it relates to the online application process, it was very beneficial in assisting us to complete the grant."
Lighthouse Baptist Church, Horseheads, NY
"The grant that was provided by Oldham Foundation allowed us to repave our two driveways coming into the church. The old pavement was breaking up and with winter coming it probably would have been beyond repair in the spring of 2021. Thank you for your help, We couldn't have done without you."
Royersford Church of the Nazarene, Royersford, PA
"We never would have had the confidence to pursue this project on our own. But with the spurring help of Oldham, not only did we have the faith to explore and undertake the project, our church has benefited and gained steam as a result of that faith this year. Our church family has grown even through the difficulties presented during 2020 pandemic. Finances are secure our people excited, grounds refreshed, and God has continued to bless our church family with a loving and 'others focused' culture in living out our vision of a Restoring Community Church of Jesus Christ in our town. I hope so much to partner again with your foundation if we hit any other big obstacles."
Faith Baptist Church, Attica, KS
The grant awarded to us has been such a needed blessing. This project took more money than we anticipated. The process was simple and Lisa was very helpful and kind every step of the way. Our church thanks you very much! Many Blessings!
New Life Baptist Church, Addison, MI
"What a blessing it was to actually see vivid colors and words on our screen! It had been so long since we were using a projector not working properly, that we couldn't believe what it was supposed to look like! No flickering, and instead clear, bright images and words. Thank you so much for your gift to make this possible. God used you to be such an encouragement to us all here at New Life Baptist Church.
Thank you for your clear step by step instructions in your online application process.
May God bless your ministry!
Harvest Baptist Temple, Owensboro, KY
Our church is grateful for the generosity shown to us. Our church has been/still is a revitalization project. God has been so good to us to bring healing and restoration. We have also been able to repair old buildings. And this grant was a big part of that. Thank you so much for thinking of smaller churches who need help and encouragement. You have given that! May the Lord bless and use you in other churches as He has used you in our church!
Center Church, Grove City, PA
Center Church of Grove City, PA, is so very grateful for the generous funding towards our building project. This has allowed us to have the necessary brick work done and a new door installed to finish off a newly exposed exterior wall, after demolition of an addition which was declared unsafe and unstable due to sinking after many years. The building looks so good now! The restoration of that wall allows us time to carefully plan for future expansion in a different part of our property without worry over deterioration of the existing building. Thank you so much and may God bless you and the Foundation.
Windham Bible Church, Windham, OH
The blessing, that the Lord has provided our church through the OLCF, was both wonderful and right on time. The OLCF board worked with us quickly, in regards to our grant proposal and the unique conditions our church was facing at the time of the grant request. Communication and follow up information was efficient and easy to work with.
Thank you OLCF, we would not be having our church service today, if God had not given us the grant through your organization.
May the Lord bless you as you continue to be His hands and feet.
Center Barnstead Christian Church, Center Barnstead, NH
This is one of the easiest projects the writer of this grant has ever completed. All I had to do was follow up on the work other people in the congregation have and probably thought no one would ever use their work. This has been a project that the church and the community needed during these depressing times to show them that hope for success is still something that does occur. God has been faithful in many lives for years and continues to do so. Our congregation has 7 new families attending since this process started and one family has joined the fellowship of believers membership. Others are also seeking the Lord's guidance in their desire to be active members of the congregation. The attention to the showing that Our Creator oversees and guides in every matter has been shown and praised. We look forward to conversing with your organization in the future. Thank you so much for helping us spread the true gospel throughout Barnstead, New Hampshire, New England and beyond.
Saint Thomas Missionary Baptist Church, Benton Harbor, MI
Philippians 4:6 Be anxious for nothing; but in every thing by prayer and supplication with thanksgiving let your requests be made known to God.
Saint Thomas Missionary Baptist Church has truly been blessed by Oldham Little Church Foundation for the grant to replace our roof and gutters. Not only did it help in maintaining our interior it also beautified the exterior church/neighborhood, we are so thankful to Lisa for her help in directing us through the process. Thank God for you and what you do to help churches.
Bethel Baptist Church, Ft. Bragg, CA
Our church body has been very encouraged to see how God brought this long project to quick fruition once everything was in place. It is awesome to see our Father work through people and circumstances when we pray together and watch Him accomplish the task. Thank you so much for being a big part of this process in the life of our church. Even the neighbors are impressed with what God has done!!
Emmanuel Baptist Church, Coeur d'Alene, ID
The grant monies we received from Oldham Little Church Foundation has helped us to update a very old and outdated worship center, along with making it more accessible for the hard of hearing. This update has allowed us to provide a better listening and acoustically pleasing worship experience and to be more relevant in reaching our community for Jesus. Thank you so much for your help in making this project a reality!
Eastland Baptist Church, Bryan, OH
The grant award from Oldham was a real encouragement to our congregation. We had been saving to fix our parking lot but the amount needed seemed so very out of reach. Oldham's choosing our congregation to help with a grant sparked a great feeling of rejoicing and relief in the congregation. We knew God would provide the funds but now we saw God doing just that. He was helping us through Oldham reach our goal of fixing our parking lot. The finished parking lot allows us to now focus our resources on our ministry of making reproducing disciples and reaching those in the community who don't know Jesus.
Thank you for picking us for the grant. Oldham is such a blessing to small churches like Eastland.
Hilcrest Baptist Church, Jamestown, NY
Two years ago we began a major Capital Campaign and restructuring project. We moved forward with the resolution that we would not borrow any money for this undertaking. It is remarkable how many unexpected sources of revenue God has provided. We are thankful to the Oldham Little Church Foundation for being one of those sources. Tomorrow we have our annual Harvest Festival, the offering from which we prayerfully hope will allow us to complete the last phase, a vestibule off the main doors.
Thank you for your partnership with us in reaching our community for the Kingdom.
Spring Valley Wesleyan Church, Kalamazoo, MI
This was an absolute blessing! Soon after we received notice that we were approved for this grant, we also found out our main AC coil went bad and had to be replaced. Without this grant, we would have been stuck choosing which one to fix. With your assistance we were able to have both replaced! Thank you!!!
Fellowship of Believers Baptist Church, Pearland, TX
The Grant Award has helped our church move to a new level of excellence when producing video output for our congregation during this Covid-19 Pandemic. The picture and sound are much better quality and we would not have been able to accomplish this at this time when we needed it the most without the grant award help.
The application process was tedious but not difficult. It required the applicant to pay attention to detail and show a true picture of the project. The only problem I had with the application is the space allowed to upload documents and receipts. With a project type like we had, there are multiple receipts, invoices, etc., as all the items needed can't be purchased at 1 vendor. I believe we ended up with at least 30 pages of receipts and this was too much to get upload with the allotted space. The good thing was the help I got from Ms. Lisa. She was amazing when working with me. She was patient and determined to help me get the documents uploaded. Thanks to Ms. Lisa.
LifeWay Bible Fellowship, Fort Wayne, IN
We're extremely grateful for your generous support to the LifeWay Bible Fellowship roof project. Your contribution will serve in helping us sustain our presence in the community, being a beacon of hope and refuge.... We know its by the grace of God and your support that has made this possible. Thank you on behalf of the LifeWay church family. Be blessed.
CHRIST CHURCH at Goshen, Goshen, KY
Thank you again OLCF! Your grant was critical to this (HVAC and mold remediation) project. Our sanctuary is now safe and comfortable.
Blessings to you!
Zion Missionary Baptist Church, Woodlawn, TX
Our church was destroyed by a tornado in Dec 2015, the building was a total loss.. Our insurance did not supply enough funds to rebuild at today's cost. The grant enabled us to continue with new construction by providing funds for one important aspect of our building, the flooring. The online grant application was easy to navigate and to know what is expected.... We will be dedicating the building on Sunday November 8, 2020.
Canal Fulton Baptist Church, Canal Fulton, OH
Everything about this grant application process was great. OLCF has been a tremendous help and blessing to the ministries of Canal Fulton Baptist Church. Thank you so much!
Lynn Friends Church, Lynn, IN
All of us at Lynn Friends Church would like to extend out greatest gratitude for the grant that OLF gave us for the completion of our parking lot. We are a small town country church and when we started getting estimates to recover our dilapidated parking lot, they were overwhelming. With your help, we now have a beautiful parking lot that not only looks good, but it will last for many years. Thank you again for blessing us with the grant!!
We pray for God's blessing on your foundation as you continue to bless God's churches!
Belleville First Church of the Nazarene, Belleville, IL
Thank you so much for the generous grant that you gave our church. We were able to renovate four restrooms. They are now ADA compliant and bright and updated. We also replaced the railing on our staircase. It is now safety compliant with spindles close together and the proper height for the railing. Having the bathrooms and staircase updated makes our church more welcoming and safe for visitors and those who attend our church. This is our second grant from OLCF. With the first grant, everything was done with mailing things in. The online process this time was very easy to navigate and to submit the application and then the documentation for receiving the grant money. Thank you again for selecting our church for one of your grants.
Grace Reformed Baptist Church, Brunswick, ME
Thank you so much for your help in our building project. We have been so blessed to be the recipients of this generosity. We look forward to many years of worshipping God in this facility.
Overall, it was a simple process that was fairly easy to follow.
Black Oak Baptist Church, Jelico, TN
After that our church was destroyed by fire we set out to build a new church. Just knowing that this community still needed a place for the Lord to work and that so many had worked so hard to finally have one to see it all destroyed and not put another one back. As donations came in and then someone said I have heard about a foundation that might help us. We had to try. Once checking into it and using the forms. We found that the application was simple and easy and that as we needed help we got it. The grant you gave us helped us raise the money faster for when others heard we had received a grant toward the purchase of the pews and pulpit furniture, they were encouraged to also help because of what you have done. There is a light again in this community, and the Lord will truly be lifted up to all who come and even those who are outside we will go to the highways and hedges and invite. Thank you so much for all the help and encouragement. We are truly blessed and encouraged.
Resonate Church, Madison, TN
We simply cannot thank OLCF enough for the grant for the beautiful flooring! This update completely changed the look for our church building, and will serve to provide our community a beautiful place to step into for the purpose of experiencing the love of Christ through our church family! Thank you so much!! This grant was a huge blessing to us!
Antioch Baptist Church, Proctorville, NC
Antioch Missionary Baptist Church would like to sincerely thank you for the opportunity.
We are humble and grateful for the funding from your prestigious grant, Oldham Little Church Foundation. We are honored, dedicated and faithful. We are greatly appreciative of the blessings God has bestowed to us through your gift. In our prayers for all of you, I pray with joy because of your partnership in the gospel from the first day until now. Philippians 1:4-5 (NIV).
Lovesick Ministries, Lawton, OK
"This was the first substantial grant that we have ever received since we began our endeavors into ministry over 10 years ago. My wife has applied for so many grants over the years with little success. This was a huge benefit to her faith, as she was nearly ready to give up. Thank you so much for that. She was encouraged greatly by this. Our building that we operate ministry out of has never had proper working water and plumbing facilities. We were looking at being shut down by the city and state if we were not able to build and supply proper bathroom and kitchen facilities to the public. We have washed dishes with water we heat up on the stove for 7 years. The water would drain into 5 gallon buckets that we would dump out of the door. We are incredibly grateful for the ability this has given us to continue to love and serve the forgotten and lost in our community with new plumbing! Thanks!"
Sun City Church, El Paso, TX
"God's provision through the OLCF Grant has blessed Sun City Church. We are thankful to be able to purchase needed equipment and supplies to help us better minister to the people the Lord has brought to Sun City Church. Thank you, OLCF team!"
First Church of God, Racine, WI
"Thank you for encouraging the Congregation of First Church of God with the grant for the kitchen remodel. So many of the outreach ministries that our church provides to the community and to the Body of Christ use the kitchen. It truly helps us to show the love of Christ. God sent us craftsmen who are now friends of the church and went above and beyond not just doing a job for the church, but saw it as a work for God. We would not have been able to make this kitchen so much more functional without your help. Many church members helped with technical info, historical info, documentation, physical work, donations and a loan that it brought us together in service for the Lord."
Valley Independent Baptist Church, Huttonsville, WV
"OLCF has been wonderful to work with and a blessing to our church building project, their online grant was so easy to complete and indirectly assisted us in having an orderly project plan. I consider OLCF to be a wonderful ministry to small churches and would recommend to other ministries to take advantage of this great opportunity or I should say blessing." - Youth Pastor Mark J. Allen
The Fellowship of Love, Richmond, TX
"The Oldham Little Church Foundation has blessed our church by providing our ministry with tools and equipment that has allowed our church to now go online and actually purchase items that will help assist the children and youth ministries. The online process was seamless and the staff at Oldham were amazing. The Fellowship of Love couldn't have asked for a smoother process and we will continue to use all that we obtain to further the Kingdom of the Lord. May God continue to bless Oldham Little Church Foundation!"
Springfield Baptist Church, Greenwood, SC
"Springfield Baptist Church has been greatly blessed by OLCF with the grant to replace the roof on our church. When doing things new and different like applying for a grant, it can be a little scary and feel overwhelming, but none of those things was the case with your organization! The process was very easy to follow, and I was able to speak with someone when I had questions. SBC is very grateful for your help in assisting us with the much needed repairs to our church!! May God continue to bless you for being there for churches in need! We would love to let everyone know how awesome your organization is and the wonderful support and support staff you have! Thank you again!!"
King Cove Bible Church, King Cove, AK
"We are a small Church in an Alaskan fishing village of about 900 people. For special occasions, we have packed over 80 people in our 55 seat sanctuary. For funerals, we have had people standing in our entrance way and out on to the entrance deck in the rain and wind in the Aleutian Islands where we have less than a 100 days of sunshine a year. Now, with the grant that we received from the Oldham Little Church Foundation, we will soon have a building that will seat over 100 plus for the first time our building will be handicap accessible. TO GOD BE THE GLORY!"
Heath Christian Union Church, Heath, OH
"This grant is truly a blessing to our church. While our need appeared overwhelming at first, we have seen God use (Oldham Little Church Foundation) as designed. Our congregation was revitalized by your generosity. While we can't match this grant immediately, we intend to pass it on to others as we grow. Thank you.
The online application worked well, no glitches.
Glenvale Church of God, Marysville, PA
"Oldham Little Church Foundation. Love that name. There are not too many organizations that would use the word "little" in their title. Everyone wants to look big. Glenvale is a small, rural church as far as churches go. But we believe we are a mighty force in our community and surrounding areas. In mid-July we had 26 young children commit their lives to Jesus during a week of Vacation Bible School. Just last week, two young adults were baptized as a testimony of their commitment to Jesus. We firmly believe that little becomes much when it is placed in the Master's hands.
Our parking lot looks so wonderful. The application process worked well for us.. The project is paid in full without any debt and Oldham Little Church Foundation helped us reach that goal. God bless your board and your organization. We thank God for you and your organization that is willing to help little churches. May God bless the work of your hands and hearts."
Latrobe Alliance Church, Latrobe, PA
"OLCF has blessed our church beyond description with a generous grant that allowed us to complete several desperately needed projects in our sanctuary and parking lot. For nearly twenty years, our congregation has worshipped together in uncomfortable metal folding chairs. This grant allowed us to finally replace those old chairs with new attractive and durable stacking chairs that are far, far more comfortable. In addition, we were also able to use a portion of the grant to install three parking islands. These have replaced ugly orange parking cones and now provide definitive parking spaces for our church family and visitors. As we finish planting low shrubs and ground cover in these islands, they will also greatly enhance the appearance of our church. Thank you and may the Lord bless your ministry! Thank you for making the process so easy!"
Charlotte First Baptist Church, Charlotte, TN
"God is amazing. Thank you so much for your grant to our church. We are a small older church and in need of a lot of renovations. Your funding helped us repave the parking lot and now we have handicap parking spaces that were desperately needed. The parking lot had deteriorated and was also not safe for walking. The revitalization of Charlotte First Baptist is going very well. Many people have noticed the renovations of the church over the last few months as we are continuing to grow. This funding could not have come at a better time. We are so thankful to our brothers and sisters in Christ at Oldham Little Church Foundation who poured out their love to us. Continue to pray for us and we press forward for God's kingdom.
The grant application process went very smoothly and the staff was always very helpful with questions."
Oates Drive Baptist Church, Mesquite, TX
"We never had the pleasure of meeting Mr. Morris Oldham, but the legacy and generosity he left has made impacts for all Eternity. Oates Drive Baptist Church has been the blessed recipient of 2 grants that have enable the ministry of the Gospel to go forward in a challenging socio-economical area. Psalm 78:6-8 says that 'generations to come might know, even the children, will set their hope and not forget God. Our building, including the children's building, was in desperate need of drainage repair. This grant went a long way toward making these repairs. Now, we can have ministry without fear of flood. Because of Oldham Foundation's generosity in 2014, we were able to purchase a sound system to help with Spanish translation. Once the system was installed, two Hispanic missions were started and in one year, the Lord blessed with numerous conversions.
'May all who come behind us find us faithful.' To The Oldham Foundation, thank you and may the Lord bless their continued generosity.
Keystone Free Will Baptist Church, Greensburg, PA
"Wow...what a huge blessing and great help this grant was for our church. We were not sure how we were going to be able to pay for our new parking lot until someone told us about this Foundation. Keystone Church is thankful for the ministry that this organization has."
Oakhaven Church, Osh Kosh, WI
"We are extremely appreciative of the assistance you have offered us. I have truly enjoyed telling the story of OLCF and your dedication to assisting small churches share the gospel of Jesus Christ. I am hopeful that Mr. Oldham, with his roots in the dairy industry, would have taken pleasure in knowing that this project has been completed in a remodeled dairy barn...Thank you again."
First Church of the Nazarene, Topeka, KS
"Thank you so much for your generosity and support in ministry. This grant enabled us to replace 10 of our 15 furnaces in our facility. We are overwhelmed by your work to further God's Kingdom whereever it is advancing. The whole grant process was easy and non stressful."
Pioneer Valley Baptist Church, Westfield, MA
"OLCF was truly a 'God-send' for our building expansion project.... Because of the kindness of OLCF, we were able to complete our project 'debt-free'. Thank you, OLCF!!!"
New Home Missionary Baptist Church, Lansing, MI
"Oldham Little Church Foundation's grant has been a great blessing to our church. This generous grant has helped to install a much needed new roof over a portion of our church building. Mere words cannot express our gratitude. Our prayer is that the foundation will be blessed as it carries out the spirit of Mr. Oldham's legacy to serve and give so that small churches like ours can continue to minister to others."